Founded in late January 2014 as a craft/hobbyist maker of All-Natural Beard Oils offering varying degrees of conditioning. Along the path to where we are today we have expanded into two full brands of Personal Care, Grooming and Scented Home Products under two brand names.
OUR MISSION
Finding a sea of very stylish, often trendy and seemingly over valued, we wanted to reach out to REAL PEOPLE that wish to shop with small local craft makers and offer then solid performing products without pretense and at more down-to-Earth prices. To be a genuine value!
We want people to feel good about what they buy and how it affects their self-image. Where expensive so-called luxury brands tend to be used sparingly as a means to spoil ourselves, it would be great if we can spoil ourselves more often and not feel guilty about the extravagance. Guilt Free Self-Care through Personal Care.
Offer an ever evolving line of every day basics that serve common needs, while giving choice over formulas that allow you to fine tune your care. With scent, or fragrance, being such a mood influencer; we try to bring as many choices as possible to the market. Often avoiding the very common and seek out those that are less than common. Yet we also offer some classics that have avoided becoming cliches.
OUR COMPANY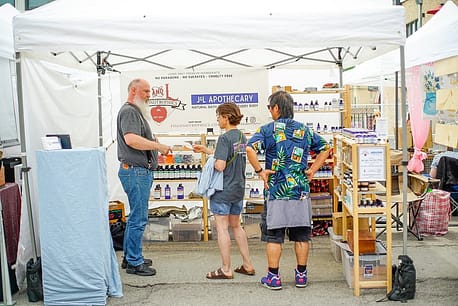 Looking at the landscape of business today, especially when it comes to specialty upstarts like us, there seems to be a formula that has developed that insists upon rapid growth at any cost. J&L has the desire to break that trend and work methodically to establish a reputation based around our mission.
In lieu of taking on large debts to establish ourselves, we opted to go old-school and invest in ourselves and grow at a slower pace. This gives us room to make mistakes while we try new ideas and do things differently. There is no capital investor forcing us to be like everyone else. This here exactly is how we can be different and create something people can connect with. Our path is not taken from a How-To manual written by analysts, it is carved out as a partnership where the end customer has more influence in pushing us forward. There is room for us to learn as we go and not place all hope in success in the original plan.
The goal is to keep everything "In House". Not only as a means to save money but cutting out middlemen, but as a means to be more in touch with every aspect of our business – from product development to customer experience. We make it, package it, sell it, market it, ship it – nothing is done by anyone else. We wont be paying influencers to talk us up, we rather let our products and customers speak for themselves.
WHO IS OUR CUSTOMER?
This is easy for us to answer. At the forefront, our customer is anyone who enjoys locally or small maker produced goods. Of those customers that are bearded or know someone that is bearded, we have a full line of products that is more exclusive for them. Yet, everything else we make and sell has no "key demographic" in mind. All of it is inclusive and as diverse as all people can be. We do not design or make products targeting any specific gender, race, nationality, income level or age. It all boils down to what you like in the way of intended function of what any one item is made for, seconded by what scent you like most. It's that simple
WHAT YOU MAY EXPECT FROM US AS WE GROW
With every step of growth in sales and exposure, we are growing in what we offer. This is very much that investment in ourselves. With all this growth we will need to expand into bigger spaces and bring more people into our family. J&L is on the edge of the next big step for us, and that is having a full service production facility that can serve all facets of our business needs while also offering a means for you to shop directly with us, in person.
In the interim, we are going to streamline our focus to build the capital to make this next step happen. This will mean suspending production of lower selling items and potentially adding a few new items to broaden appeal of our brands. There will also be a constant drive to improve our sustainability efforts by reducing waste and promoting the use of renewable packaging.
OUR FOUNDER
JC has pretty much been the one to work to build this up. He did not do it alone and has a team of people that come in to help make this dream a reality. JC has a background in culinary pursuits, the sciences, arts and music. Having been bearded since high school, he has over 30 years of bearding life experience. The struggles to keep a beard looking great and keeping it healthy led him to start this enterprise. He didn't jump on a trend in growing a beard, or to take care of it.
Growing up very socially aware and conscious of the world around him as he dealt with the struggles of his identity and looking for acceptance from people who didn't care about what made him different, nor wished to change him. His goals are to build a fully inclusive business and brand that is poised for a world that can build unity by respecting and embracing what makes us all unique.

---
OPPORTUNITIES
To achieve our goals we must be open to bring in other voices that can add to our mission. There is no pressure for us to let any one person in, but we will not rule out such. For this to work well for us, that voice must be in sync with out own. A solid partner will be in harmony with our mission, vision and purpose.
OPEN TO THE RIGHT INVESTOR(S)
To make this happen, we are willing to accept outside investment from those who really get what we are about and want us to keep it going. We are open to sensible, on brand, change; not reinvention. We have already built a trustworthy brand image with those that really get what we are about and what we are trying to do. As an investor, we would want you to help us retain that – not throw it away for your own vision. Your investment would mean you know we have something already and you only want to see us grow. Past interested parties started out by immediately demanding we change everything – company name, product assortment and mission. We were told to raise our prices and outsource all work.
Investment would allow us to increase marketing, improve our web and social media presence and solidify our brands as we work to achieve our existing goals. If you think you are interested, head to our contacts page to reach out.
---