It has been an arduous effort to update and relaunch our J&L Pogonotrophics Shaving line. Over the last 3 years I have been working to renew this line that has been with us since our earliest days. Making shaving products was never part of our original plan but when requests came in, I started to rethink my position. Initially my objection was based around promoting pogonotrophy – that is, encouraging beard growth. I saw shaving as the antithesis of this philosophy. Even when a friend mentioned that he uses various shaving products to help keep his face and beard looking and feeling great, I responded that there is a well established industry that handles it very well.
When a barber asked me to create some items for shaving to sell at her chair, I gave her the same response I gave my friend. Her reaction is what finally convinced me. She told me about her experiences, training and work as a barber and how she had someone who used to make Shaving Oil. She then went into how and why it is such a great product to use on her clients. She has not been able to find Shaving Oil after her source ceased to exist. Her belief was that will working with oils for making beard oil, it would be an easy addition for me to make and she was willing to commission me to make it for her to use. With her input and doing some research I developed a great formula to make for her, as well as for J&L to sell.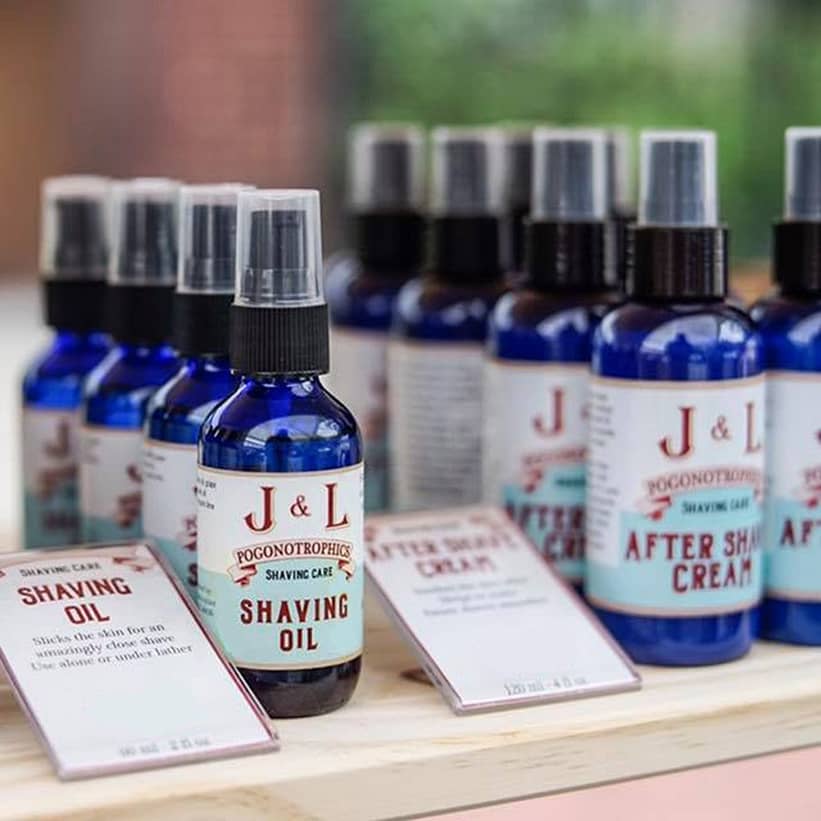 Through my research, I found some inspiration to make companion products as well. Shaving soap pucks, pre-shave tonic and an after shave lotion. At the time, J&L was already making lotions and soaps so this was an easy transition in regards to making. Now the question was how will this all sell. I introduced the items to another barbershop I already had a relationship with and they were excited about adding them to their shelves.
Over time, J&L Shaving was a steady performer. Many gents loved the after shave cream and tonic. The shave oil was a tough sell with it being such a foreign concept to most men. Women ended up being the primary customer for the shaving oil as it was ideal for use in the shower, where most women tend to shave.
Little changed in this line over the years, only labeling and packaging was fine tuned to keep everything J&L Pogonotrophics consistent in look and feel. About 4 years in, the packaging we started using for the After Shave Cream Lotion was unavailable. We could source the same style of bottle in a larger size, which would not be the right fit for this product. At the time, we had sufficient inventory for the coming months. With no pressing need to make more, my thoughts were we could ride this out in hopes that the same bottles would again be available to purchase. Well, then the pandemic hit. Virtually every bottle and jar we used became unavailable. Sales also became stagnant, leaving us with plenty of inventory to get us through. During this time we started to think about every aspect of our business and looked to see what we could improve. Shaving became a segment that needed some love.
Once I got my ideas in place, I started with weighing the pros and cons of every product and every scent. What was working well, what was not. First, I scrapped the idea of the "travel jar" shaving soap in lieu of creating a foaming shaving cream built upon our foaming soap base. This served the purpose of the travel jar as well as creating a new easy to use lathering shaving cream. Then I narrowed down 4 or 5 scents that would be best suited for shaving products with the intent of making all key items in the same scents – only the tonic would not be factored into this. Initially the Shaving Oil was only in a Lime scent, which actually was not a scent but an active ingredient. Now the plan was to offer Shaving Oil in these scents.
It still took some time to figure out how to package the After Shave Cream. After a lot of concepts being sorted through, I settled on returning to the original bottle with pump dispenser. Towards the end of this work, J&L Pogonotrophics Beard Care started rolling out a new modern-futuristic look to the labeling. This was a bold step to help the brand stand out against a crowded market of hyper-masculine posturing vibe that our contemporaries had been utilizing. It was decided to leave a classic, old-timey-ish look and feel for the Shaving line. There was little about this line that was modern, as it still leaned on very old concepts for shaving.
Having sorted out all these issues, finally sourcing reliable and easy to source packaging, settling on a collection of scents that reflect the style and vibe of classic Shaving needs, I am excited to announce that J&L Pogonotrophics Shaving is 100% back in the game.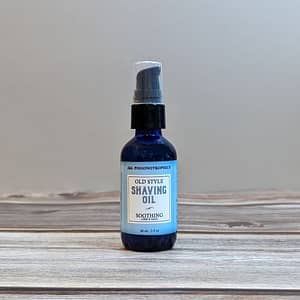 We have finalized Lime & Black Pepper, Eucalyptus & Peppermint, Cedar Leather (Oxford), and Cherry Pipe Tobacco as our 4 scents that will be found in 4 key items. Those items being, Shaving Soap Puck, Foaming Shaving Cream, Shaving Oil, and After Shave Cream. We will also reintroduce the Pre/Post Shave Tonic in its original form to include a blend of mint & menthol essential oils; spearmint, peppermint, rosemary and eucalyptus. Unscented options may follow if we receive enough demand.
Our Shaving Oil recipe has been updated to be even better for your skin, the shaving soap puck has been refined using our "soap free" pH balanced cleansing bar recipe. The After Shave Cream is an all new recipe that is 100% made in house and backed with powerful moisturizers. It is thick and you only need to tiniest amount to get some cool comfort after your shave.
.